[Requested by MJH]
[AUTHOR'S NOTE: In the run-up to President Rodrigo Duterte's final State of the Nation Address (SONA) on Monday, we will tackle one of the legacies between him and the media. This blog post is dedicated to Howard Johnson, a BBC correspondent in our country and Jules Guiang, who is now in Rappler.]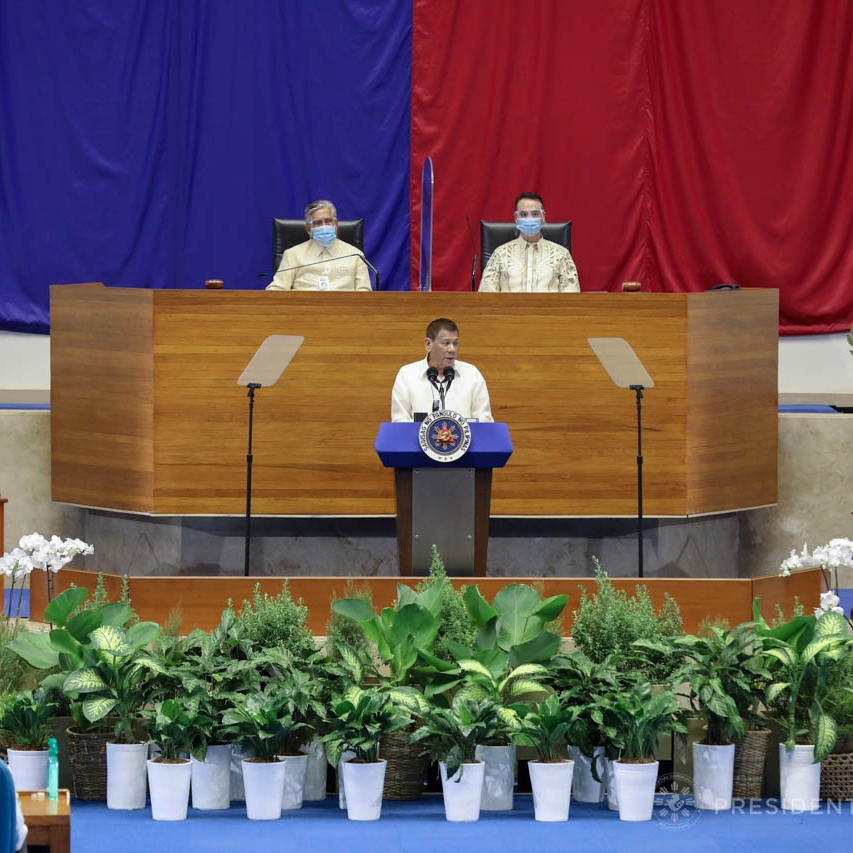 FINALLY, the last SONA of President Rodrigo Duterte is upon us. After this, there will be no more rants that come from his bruised ego heart, right? (SPOILER: Not quite, he has more every week after this.)
His valedictory SONA will be a verdict to judge his legacy but the people had already decided before that and they knew who will succeed him for next year's election.
Before he will deliver his last annual speech to the 18th Congress this Monday afternoon inside Batasang Pambansa, I would like to share an excerpt of his maiden SONA on July 25, 2016 (with ad-libs):
To better manage public information, a law should be passed – I'm addressing Congress– to create the People's Broadcasting Corporation, replacing PTV-4, [applause] the government-run TV station, which now aims to replicate international government broadcasting networks. Teams from these international news agencies — I'd like to mention those interested BBC — are set to visit the country soon to train people from government-run channels to observe. Ito ang gusto ko — tutal pera naman ng tao — to observe editorial independence through innovative programs [applause] and intelligent treatment and analysis of news reports, as well as developments of national and international significance.

The government's Bureau of Broadcast Services, better known as the Radyo ng Bayan, shall undergo upgrading to make it financially viable and dependable for accurate and independent, and enlightening news and commentary. Radyo ng Bayan will be integrated with the PBC.

As we are presently setting up a Presidential Communications Satellite Office in Davao City, PBC will also put up broadcast hubs in the Visayas and Mindanao. [applause] Davao City will also be the first site of the first Muslim channel, to be called Salaam Television, [applause] and the first Lumad channel. [applause]

Pres. Rodrigo Roa Duterte (July 25, 2016)
Well, he fulfilled about the Salaam TV which took off a year later as the People's Television Network (PTV) digital subchannel but the Lumad channel didn't and became a TV program. He got the Mindanao Hub at his bailiwick in Davao City — which was opened last year — became fully operational since last March. (This is going to be used as a weapon for its remaining die-hard supporters in their interpretation of his legacy.)
Legislation regarding the People's Broadcasting Corporation remains pending in Congress. By now, the chance to make it will be slim as the 3rd Regular Session of this current Congress will have the shortest number of session days on account to the filing and campaigning of politicians for May 9, 2022.
But look at a specific passage of text earlier, what does editorial independence mean? Did they ever try to uphold it?
Editorial independence, like most public broadcasters in the world they vow to uphold, is a principle wherein editors or the staff are free to make decisions what to report without interference from the owners of the said mass media. They must report professionally and impartially even if it hurts their organization and/or the sitting government. Else, the state media would be turned into CCTV of China or KCTV of North Korea.
For almost half a century on the air, PTV has not effectively practiced this most of the time as it has been a mouthpiece of the incumbent Presidency. (Hence, the derogatory nicknames: President's or the Palace Television.) Whatever issues happened throughout that or this time, they report the news favorably on their side as if someone is forced to read a positive PR piece amidst the general public's long-time poor reputation to that institution (save during Lotto time).
The overseeing henchman to do that cumbersome task lies on Presidential Communications Operations Office Secretary Martin Andanar. Having educated in Australia, he could've spent that time to emulate what the Australian Broadcasting Corporation (ABC) has done. Five years has elapsed, alas, it was not to be but he made a mark in modernizing the radio counterparts (RP1, Republika FM1 and Capital FM2).
Du30's PTV for the Past 5 Years
Before COVID (2016-19)
All his Presidential engagements — including the SONA — are captured live and made solely through PBS-RTVM with the clearest format they can afford and capture and professionalized further with their watermarks.
In 2017, the inaugural Philippines Football League was aired on this network for the first two months but gave up the telecast due to the president's "newsworthy" engagements.
In 2018, the said GOCC's audit report for the previous year, they flagged the multi-million Tulfo-DOT ad deal. The Department of Tourism Secretary at the time was Wanda Tulfo-Teo, the sister of the Tulfo brothers. This scandal led to her resignation.
They made a trade launch promo back in July that year but most of the programs promoted failed to materialized with one notorious exception:
The network shamelessly and defensively aired Tagalog-dubbed mainland Chinese programs, in which served as a run-up to the state visit of President Xi Jinping the following November. The Korean, Japanese and ASEAN program exchanges never went on air. (This incident is where the incumbent's foreign policy was effectively manifested.)
In 2019, all was smooth sailing for PTV, despite the four-day suspension of the Lotto Draw due to suspicious of corruption within PCSO. They even got a significant contribution to broadcast the 30th Southeast Asian Games here at home (the last, Old Normal).
In the Time of COVID (2020-present)
When COVID-19 became a pandemic, the daily #LagingHandaPH Public Briefings, presented by Andanar and Undersecretary Rocky Ignacio, served as a program on the updates of the government response. However, this has been criticized for having the President's long-time aide, Senator Christopher Lawrence "Bong" Go, as the front act.
Every week, the President makes a "talk to the nation" wherein he makes unfiltered rants; he may look like a ranting person in a Vincentiments short film but it's on live TV. The following day, whatever he said the night before will be sanitized by President Spokesperson Harry Roque on the Palace briefing.
In July 2020, Jules Guiang, who was the sole dissenter among the suspicious yes-men personalities on PTV, could no longer hold on. He snapped out when the contractualization of employees was grilled in the House of Representatives against the pioneer broadcaster last year. He ranted on Twitter how come the contractualization was bad there while within the backyard in Visayas Avenue remains alive and well while; this cost him the job but felt liberated and indignant afterwards.
Earlier this year, some of their station-produced programs were suspended due to "quarantine safety protocol issues" and their tweets in fumble. On April 27, the PCOO issued a memo to every media platform they control to "amplify the facts" on the national vaccination drive.
Throughout 2020 and so far in 2021, this TV network's airtime was responsible in covering political conventions of the sitting president's political party (PDP-LABAN):
First, they covered an orchestrated meeting last year to pin down Alan Peter Cayetano and to install Lord Alan Velasco as the new Speaker of the House of Representatives.
Another use of airtime happened earlier this month, the People's Reform Party (under Jun Santiago, widower of Sen. Miriam Defensor-Santiago) is supporting the outgoing President's daughter, Inday Sara, for the potential presidential run.
Roque claimed that both (rather on the latter) coverage were deemed "newsworthy" as no other TV network (well, with an evident exception for SMNI) would care.
Is there any hope left? Next time?
Among the aforementioned enumerations, does this recent track record exemplify editorial independence and impartiality? Needless to say, no. The spirit inside Vasra remained the same since 1974. Shocked but not surprised, this blog post I published a bit more than five years ago aged like sour milk.
In our recent Monthly Media Survey, 73% of respondents knew that it will not happen but 27% still have unwavering hopes in the last 343 days of the current administration.
What about their hopes for the next administration?
In pinning their hopes for the next administration (2022-28), in which they'll inherit the tangible and intangible legacy, 36% of the respondents have hopes that editorial independence will prevail, 18% won't see that happening and the rest (46%) remain unsure.
A system shift: the last resort
However, there is a radical yet concrete measures to effectively end PTV from being an "echo chamber" of the sitting government to become a respectable, editorially independent institution: amending or replacing the Constitution.
While I have tackled about this last January on removing restrictions on foreign direct investment, in this case, they advocated a shift to parliamentary form of government.
In most countries under that particular system of governance, their state broadcasters kept their news and public affairs independent; their entertainment output is at par or at high standards with the commercial counterparts despite government funding. In that system, they are answerable to the Legislature and they can be summoned at any time (regardless if there's a scandal that directly or indirectly affecting them) instead of the current system prevailing where they are to be summoned just for their annual general appropriations (i.e. budget).
(NOTE: I didn't include it in survey about that but I don't really mind. Let them know in the discussion platforms.)
---
Photo courtesy of Presidential Communications Operations Office / Rappler